Embattled comedian Bill Cosby's attempt to have a pending civil suit against him tossed out of court was denied. On Thursday, a California Court of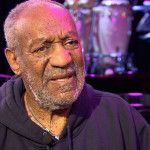 Appeal rejected Cosby's petition to reject a law suit filed in Los Angeles Superior Court by Attorney Gloria Allred in December on behalf of Judy Huth. The civil suit is the victim's only recourse, as the statute of limitations has expired on the allegations. Allred hopes to force Cosby to testify in court, which will result in a written record of the proceedings.
Huth, now 57 years old, alleges that when she was 15 Cosby met her and her 16-year-old friend, and invited them to a home where they were served alcohol. While feeling 'buzzed', Huth's statement says that she believes they went to the Playboy Mansion, where Cosby invited her to sit on a bed beside him, slid his hand down her pants, and used her hand to perform a sex act on himself.  Cosby's attorney, Martin Singer, so far has declined to comment on the decision.
Allred expressed her relief that the court had denied Cosby's petition to dismiss the civil suit, stating:
Judy Huth's case against Mr. Cosby can now move forward. If Mr. Cosby asks the California Supreme Court to review this matter we will oppose that effort and also take steps to proceed with discovery which will include taking Mr. Cosby's deposition.

We are very happy about the Court of Appeal decision yesterday which allows Ms. Huth's case to proceed rather than being dismissed. It is very important to Ms. Huth that she be able to have her day in court in this case.
The California Court decision came only two days after the Nevada Governor Brian Sandoval signed a bill into law that will extend the statute of limitations for criminal prosecutions of sexual assault from 4 to 20 years. The bill was sponsored by Assemblywoman Irene Bustamante Adams, who stood alongside two women who have come forward with allegations against Bill Cosby, as they expressed their optimism that the new law will encourage victims to come forward, and allow the legal system to apply criminal charges to cases that are up to 20 years old.
One of the women, Lise-Lotte Lublin, had earlier expressed her frustration at the 4 year limitation when she remarked:
I am furious and I have decided to fight for my rights and the rights of every man, woman, and child who have been victims of a sexual crime. I have contacted every senator and assembly person from the state of Nevada, and I will continue to rally every victim of sexual assault, every rape crisis centre, and every supporter who believes in the right to have an offender tried in a court of law.