Q: I found your website through the OntarioKink Tumblr blog, and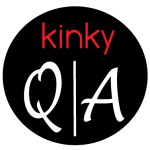 I'm looking for advice. I've tried going on a few dates (mostly using OkCupid and PlentyOfFish), and mentioning that I have submissive tendencies. That tends to either end the date, or make men think that I'm just looking for sex. I guess what I'm looking for is dating tips for kinksters. Do you have any suggestions? – Submitted by Andrea through our form here
A: Hi Andrea! The good news is, there are some great dominant guys out there…the bad news is that dating is NEVER easy. No matter your gender or dynamic label (Dom/sub), here are some tips that will help you with your kinky dating!
ONLINE DATING
I've had some experience with OkCupid myself, and found that when I outright said I was kinky on the profile it attracted the wrong kind of attention from women. Kinky dating was a disaster by being so forthcoming. Instead, I revised my profile to incorporate subtle hints towards what I'm into, as well as to show my humorous side. Here's a few examples:
This dating profile has been rated RESTRICTED for the following reasons:

-Mature Themes (such as mutual respect, communication, and trust)
-Language May Offend (I don't pull punches, or stay away from tough subjects)
-Sexual Violence (the fun kind)
-Some Scary Scenes (if you ever see me cook or attempt to dance)
"I want a 1950's style household, but a modern car in the garage, if you know what I mean (if you don't, you'll have to ask me)."
In response to the question about what I'm really good at:
"…setting people on fire. That's actually true, and you should probably ask what I mean by that before you call the police."
I also found it extremely important to take the time to answer the questions that OkCupid asks, especially the ones regarding sex or kink. In the explanation section, I usually just wrote "You should probably ask me about this!" That makes it easier to tell who you're matched with, and it can serve as a great conversation starter!
DATING IN THE KINK WORLD
I'd strongly suggest that you sign up for FetLife.com, but I want to make sure that you understand that it's not designed as a dating site. In fact, it's creator has dubbed as an anti-dating site, because they've made a point of restricting what the search feature is capable of. For instance, you can only search for a person by username (if you happen to know it, or they have a certain term in their name) or location. You can't narrow it down to gender, breast size, number of kids, etc.
This may sound like a HUGE drawback, but it's actually not. The website is designed to be a social network for kinksters, similar to a kinky Facebook, and not a meat market. You start out by creating a profile, which you should put some thought into so that it gives people an idea of who you are, and what you're looking for. Next, join some groups that interest you. Whether you're into rope bondage, fisting, rough anal sex, sensual massages, or corporal punishment…there's a group for whatever you desire! Next, join groups that have a local focus, by typing the name of your city or region in the search box and clicking on the Groups tab.
Introduce yourself in local groups (but always read the rules before posting a personal ad to make sure they are allowed) and join in on the discussions people are having. You might want to begin adding friends, or choose to meet people in person before adding them. Unfortunately, FetLife's newsfeed is pretty dependant upon adding friends, so if you feel like there's nothing happening on FetLife, add a few people you've corresponded with in group discussions!
You'll likely find that messages will start pouring into your Inbox. There's nothing wrong with answering them all, but just like online dating sites, you'll likely receive a few form letter messages from desperate people. Learn to ignore them and focus on people that are actually taking the time to read your profile before messaging you.
MOVING BEYOND THE INTERNET
Now that you've talked with people online, you might see the word 'munch' pop up in your feed. A munch is a social event where kinksters get together over dinner or drinks to mix and mingle. It's a great way to meet people, and we suggest that you attend them. In fact, we suggest that if you plan to meet anyone you've met on FetLife (or elsewhere), it's a great place to meet for the first time because it is a group setting. We posted an article about attending munches here, so take a look!
The best way to find what you're looking for is to use FetLife and local munches to meet friends and begin your kinky dating through friendships. You might be surprised by how easy it is to find people you're interested in by doing that!
Submit your questions about sex, relationships, and kink by

using our form here

! Each week, we'll answer a new question.