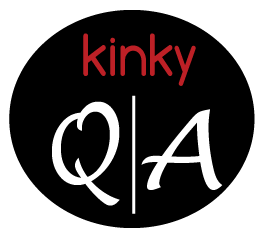 Dear Kinkster,
I want to come out to my friends that I'm kinky. Any suggestions of how I go about doing that?
I'm really nervous!!
Brian


Dear Brian
,At some point of other, many of us kinksters face the same dilemma ~ do we or don't we be who we really are versus who they think we are. Keeping in mind that we are just not our kinks, they are one part of the sum of our whole regardless of whether we live it only in the bedroom or 24/7.
I suggest looking at your motivation, why do you want to tell them? Is it to gain their approval or to be more forthcoming with your whole self and be relieved not to have to watch your p's and q's anymore? Knowing the end to your means is helpful. If you decided you're going to tell them, be as honest and simple with your words and be prepared for their reaction and questions.
Ultimately, you should be comfortable with your kinky self so that no matter, your own confidence and awareness is not shaken by their opinion.
Want to ask a kinkster a question?
You can submit your questions through our form here! Don't worry, we'll keep your name/username anonymous!