Q: I've heard a few Masters or Dominants say that its not good to love your submissive or slave. How does that make sense? Why would anyone NOT want to love their sub or slave? – Asked anonymously through our form here
A: Thanks for the question! I've actually heard this a few times myself over the years, and it's never sat quite right with me.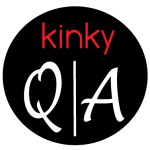 We should probably start off by clarifying that there are many types of Master/slave and Dominant/Submissive relationships, and even more plentiful variants on love. Love can take so many forms that it's hard to think that it's possible to have M/s or D/s without love.
Some D/s or M/s relationships are not romantic in nature, and simply serve to explore the partner's mutual but opposite interests in power exchange. There's nothing wrong with that, as it fulfills a need. Often people that enjoy that type of D/s or M/s relationship are experiencing 'love' in other aspects of their life.
I've had a few discussions with people who have commented on the role of love in D/s and M/s relationships in the past, and their thoughts on it have varied. Primarily, most of the people I've talked to have explained that they just mean that they love their submissive/slave in a different way than perhaps a vanilla boyfriend/girlfriend might love each other. In some cases, the Dominant would say the care for their submissive, which would probably be recognized as a mild form of love.
Some dominants also seem to find that emotion clouds their judgement. Others find it harder to discipline someone that you love, or knowing that you need to worry about their thoughts and feelings on a regular basis.  The reality is that the more you care about someone, the more you take their feelings into consideration. I think some dominants might see that as a weakness, but personally I find it to be a strength. By doing so I'm able to ensure that I have their wants, desires, and best interests in mind, and they tend to find it easier to give control to me. I definitely tend to come to love those that submit to me, but there are certainly different ways that love manifests itself.
Do you love your submissive or slave? Do you believe love should play no role in an M/s or D/s relationship? Let us know why in the comments below!